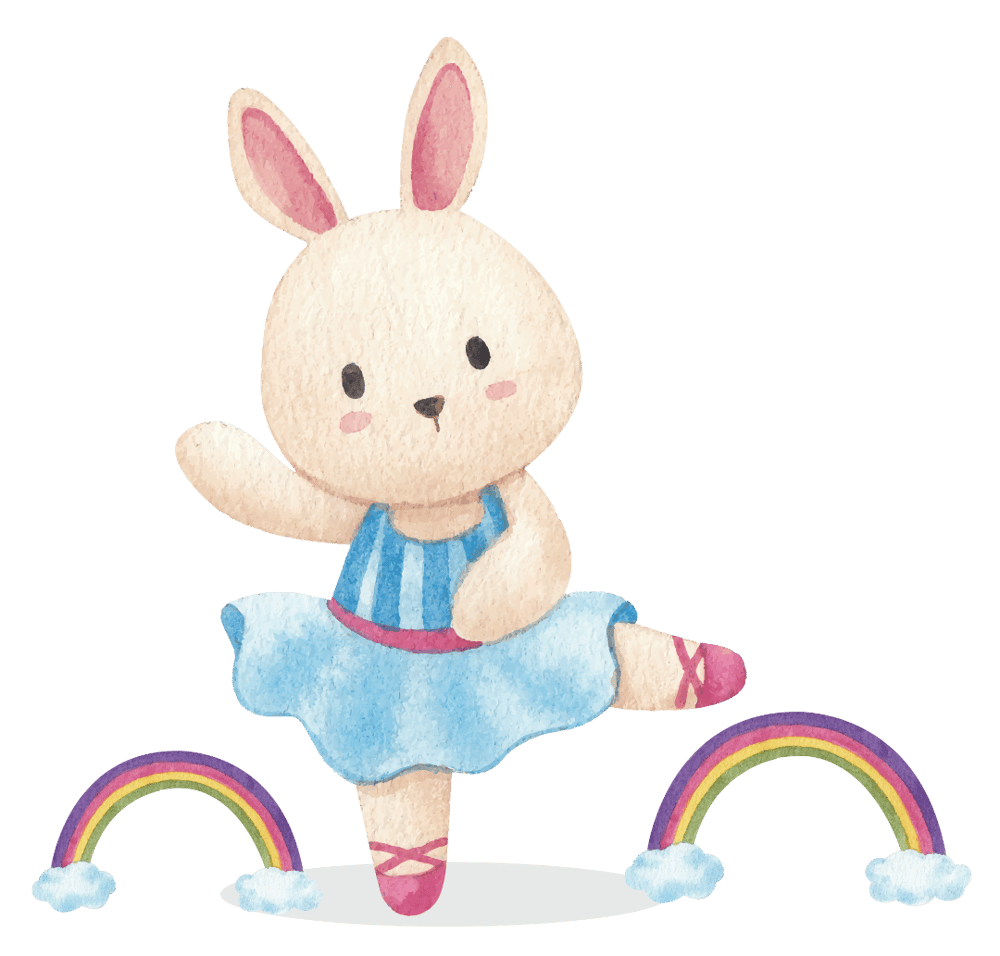 Baby Ballet Bunnies
Our new Baby Ballet Bunnies sessions are interactive classes for children and parents. We hold separate classes tailored for Movers and Non-Movers (from approx 6 months old). They are a gentle and relaxed way to introduce music, singing and movement, using techniques to stimulate children's imagination and senses. They help to boost children's confidence, improve their coordination, balance and explore their own self-expression, whilst developing friendships for children and parents with others in the class. The classes are held at Mayford Village Hall and the Arbor Centre in Pyrford on a Thursday
Classical Ballet
Classical ballet is the foundation for all dance. It teaches strength, flexibility and musicality and forms friendships that last a lifetime. It is a valuable addition to all other genres of dance, as well as in many other aspects of our pupils' futures. Whether you intend to pursue ballet as a career or just wish to enjoy a weekly class, we offer a welcoming environment with nursery classes from age 3 right up to Advanced II classes for 15 - 18 year olds.

Our Nursery classes are built on the basic foundations of ballet technique combined with storytelling and lots of imagination. This progresses onto Pre-Primary and then Primary when the first RAD exam can be taken. All RAD grades are taught up to Grade 8 and when of the required level, many pupils study the Vocational Grades alongside this. We are proud that we have many students completing the RAD curriculum to Advanced II level.

Few dance schools offer the opportunity to take the Advanced II exam and we're very proud that our exam results are some of the highest in the country.
Ballet Coaching
Ballet coaching classes are available to pupils upon invitation by the principals. There is a Junior, Intermediate and Senior coaching class and pupils are assigned to a class by age and ability. These classes are non-syllabus classes and are used to improve students' strength, flexibility and artistry. Students will also learn to pick up exercises swiftly and expand their ballet vocabulary. Professional companies such as the Bolshoi and the Mariinsky have complimented the students on their abilities and the exceptional progress they have made.
Modern
The modern syllabus aims to develop a student's understanding of their body and how it works. It is structured from Primary to Advanced 1 so that a dancer can gradually develop skills in a safe and fun way. The syllabus gradually increases flexibility, strength, musicality and dance quality, all of which are vital components of a dancer. ISTD examinations are taken at regular intervals, so each dancer can progress at a suitable rate for them. The modern syllabus also caters for boys who are given specific exercises to increase their strength and control.
Tap
This exciting syllabus teaches rhythm, musicality and dance quality using the feet as an instrument. Like modern, it is structured from Primary up to Advanced II, catering for all ages and standards with exams taken regularly.

Tap is a fun and exciting way to keep fit and is an essential addition to a dancer's repertoire.
Jazz
These classes include stretching exercises and body conditioning, which are vital components for a dancer. There is also a focus on kicks, leaps, turns and "free work" exploring different styles of choreography.

There is the opportunity for children to take the ISTD Jazz Medal examinations (Bronze, Silver and Gold).
Musical Theatre
Today dancers are expected to be able to sing and act as well as dance - you need to be a triple threat! Musical theatre classes cover singing, drama monologues and performing excerpts from popular musicals. As well as working on technical singing ability and looking at breathing techniques, it is just as important to be able to perform with confidence and everyone is encouraged to be brave! We offer fun, interactive classes where students are pushed out of their comfort zones to perform in front of their peers (and parents on watching day). Musical theatre is a great way to work on your performance, whether your goal is to perform professionally or you simply love to sing and dance for fun.

PBT (Progressing Ballet Technique)
PBT is an innovative strengthening and body conditioning program that has been designed to enhance students' technique by focusing on training muscle memory. It is a unique training system using ballet-technique specific exercises to help students perform and achieve their personal best.